| | |
| --- | --- |
| | The sound of Lucky Bean Piano comes from a German vintage upright, with a mellow, resonant and superb sound. Expertly tuned by technicians, this vintage upright maintains an amazing quality of sound. Not sound like a grand piano, but It is a great piano for a modern pop, rock or jazz recording. You will find it sits well in your mix and also it will add special flavor that those grand pianos do not have to your music. During its over 70 years' life, some of the world's greatest pianists have recorded legendary albums on it including Duke Ellington, Van Kliburn, Chick Corea and many others. |


Unique Artificial Assistant Intelligence Tool: Beat the learning curve of piano software. Get your ideal piano sounds in 6 hours, Guaranteed!
The purpose of Artificial Intelligence Assistant Tool (A.I in short) is to free musicians from technicians' work and let us focus on our music, not continuous controller assignments or tweaking the velocity curves! A.I is a bridge which connects your musical feelings and ideas to the technical data. With A.I, musicians no longer need to be technicians. A.I will make achieving your ideal sound more... well, musical! NO NEED TO REMEMBER arcane terminologies, finicky operation steps or the intricate specs of your keyboard.


Since virtual instruments have become popular, we musicians keep asking one question: how do we achieve the same skill level shown in the official demos? Now that the physical modeling era is here, we're asking another question: how can we shape our own unique sound? Although many modeling instruments give you control over many parameters of the sound, it's still difficult to achieve your own ideal sound for the very simple reason that we are musicians and not technicians.
Bad luck has no limits!
Sometimes it's not your piano software that's the problem - it might just be the keyboard that you play. Most players don't realize that nearly all keyboards have a non-linear velocity response. Combine this with the fact that hardly any keyboard players have the skills or desire to actually play an accurate linear velocity response and achieving a good dynamic is a really challenging task!
To get beyond these technical limitations, we musicians have had to spend a lot of time and energy learning the quirks of not only our instruments but our software as well. And when a software developer decides to issue an "upgrade" that thoroughly changes the basic parameters, we get to start over again. While a new trumpet is something to enjoy, modern musicians cringe at the thought of having to learn an entirely new keyboard or new software!
| | |
| --- | --- |
| The purpose of Artificial Intelligence Assistant Tool (A.I in short) is to free musicians from technicians' work and let us focus on our music, not continuous controller assignments or tweaking the velocity curves! A.I is a bridge which connects your musical feelings and ideas to the technical data. With A.I, musicians no longer need to be technicians. A.I will make achieving your ideal sound more... well, musical! NO NEED TO REMEMBER arcane terminologies, finicky operation steps or the intricate specs of your keyboard. | |
A.I will auto test your keyboard - learn all about it - and then use artificial intelligence to make suggestions for you. It is A simple to use and it speaks the same language as musicians - YOUR language - not the geek-speakS of technicians. A.I will test your keyboard velocity response, pedal support and most importantly suggest ways to shape the sound that you are looking for. A.I makes it simple to quickly achieve your ideal sound.
Here are two comparison demos showing how A.I could help you get better sound
Demo1: Without A.I, you play a piece like this
Demo2: After you use A.I to calculate the best-fit dynamic for you and apply the suggest velocity curve, the same piece will sound like this


The Revolutionary HD Velocity Layers is a system that extends the traditional 127 Velocity Layers to 65,536 Velocity Layers. This allows for the smoothest velocity transitions ever experienced and really brings that "live" feeling to all of your performances. Together with Piano Legato, they create a remarkable sound, amazing in it's realism!
Have you ever feel dull when you repeat the same note with the same velocity? On Lucky Bean Piano , which applies HD Velocity Layers, pianists will never have the chance to experience the dull for each notes you played will have a tiny nuance on sound thus there won't be any exactly same notes on Lucky Bean Piano.


Armed with these Revolutionary HD Velocity Layers, Lucky Bean Piano has a truer and richer sound with a touch that's 500 times more sensitive than the usual limited 127 velocity layers. Pianists - even classically trained virtuosos - will at last be able to bring all the subtle nuances of live playing to an electronic setting.

Have you ever noticed how repeated notes sound dull and artificial when played with the same velocity? On Lucky Bean Piano with HD Velocity Layers, you will never have this problem because each note you play will have a tiny nuance, an almost imperceptible difference that makes Lucky Bean Piano startlingly real.

As we all know, traditional MIDI ONLY supports 127 velocity layers, if you want to break this limit, you need to invent a new standard to support more velocity layers. But the new standard will be hard to use on your current software and hardware. That means it is nearly impossible for you to break this barrier without investing a lot money and time on new gears

Sound Magic's revolutionary HD Velocity Layers suggests a new way to achieve much more velocity layers using traditional MIDI. When you press a key,Lucky Bean Piano not only read the current velocity of this note, but also will read velocities and aftertouch information from previous 2 or 3 notes to generate a new number, then it will use a set of algorithms by combining the number and current velocity together to get an actual velocity level which is a 6 digit number. In this way, Lucky Bean Piano could supports up to 65536 actual velocity layers when using traditional MIDI signal.
Here are two demos showing the effect of HD Velocity Layers, Rendering with same MIDI file. The simple MIDI file has only one note repeated 12 times with the same velocity. You can hear a big difference between with and without HD Velocity Layers.
Demo1: Without HD Velocity Layers
Demo2: With HD Velocity Layers
Please note HD Velocity Layers are completely different with using repetition samples with Round Robin. Repetition samples with Round Robin always has fixed pattern and fixed number of variations. But with HD Velocity Layers, you will have infinite variations.
Lucky Bean Piano achieves a new level of realism by emulating the behavior of Piano Legato. When you are playing legato phrases on a real grand piano, the transition between two legato notes is created by subtle variations of key pressure. Lucky Bean Piano is able to respond to these differences and truly allows your sound to sing when playing legato phrases.
Demo: Without Piano Legato
Demo: With Piano Legato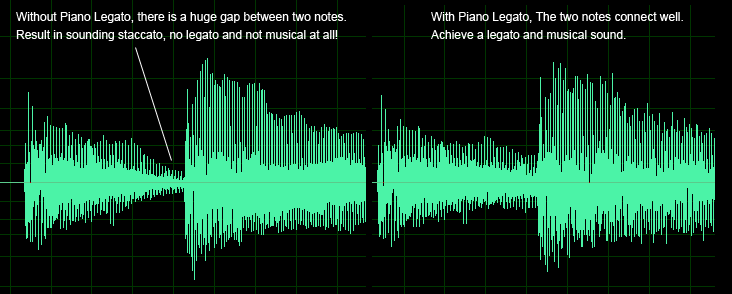 Our Industrial Best NEO Hybrid Modeling Engine offers you the best from both the sampling and modeling worlds! The Authentic Sound of Sampling combined with the Playability of a Modeling Piano makes for a piano experience that you have to try to believe!
By utilizing the powerful NEO Hybrid Modeling Engine, Lucky Bean Piano offers the best from the two worlds, Realistic Sound from Sampling and Playability from Modeling. NEO Hybrid Modeling Engine leads virtual pianos to an entire new level by providing an instantaneous feeling, truer and richer in sound and it sounds alive!

Sound Magic's NEO Hybrid Modeling is a completely new way to offer the best of both worlds, the Realistic Sound of Sampling and the Playability of Modeling. The NEO Hybrid Modeling Engine leads all other virtual pianos by providing a smaller footprint, lower latency and a truer, richer sound that makes our piano live and breathe!
Standard sampled piano sounds are always static with no interaction between the strings while playing, but the NEO Hybrid Modeling Engine forges these ethereal harmonic changes, generating subtle resonances based on which notes are being played at any given moment. The NEO Hybrid Modeling Engine is always changing, always reproducing this interaction between strings, giving it a living, breathing sound, creating a real instrument with its own soul.
The NEO Hybrid Modeling Engine achieves this realistic and authentic sound by using physical modeling to shape the sound's "skeleton" and then maps it to a series of harmonic components in real time to provide the resonance between the strings and the sound of the piano "box". IR and Convolution Reverb provide for a sense of realism essential to the live sound. Too often, reverb is added as a gloss to emulate playing in some sort of cavern, but here the reverb is replicating the reverb that occurs inside of a large vibrating instrument. (You can add your cavern playing on top of this essential sound if you need to!)
All of this number crunching can put a serious load on your computer. That's the real magic in Sound Magic. Literally hundreds of tricks are included behind the scenes - the pre-rendering of samples for example - to lower the CPU demand. You don't need a super computer to create an authentic, living piano sound - we've done the magic behind the scenes so you can create your own magic with your current computer - on stage or in the studio!
The NEO Hybrid Modeling Engine gives you absolute control over every aspect of a piano - you can even design your own piano! There are nearly 40 controls waiting for you to tweak! Some of you just HAVE to dial up the hammer hardness and velocity, play with the dynamic response, even control the interaction between different strings. Not a tweaker? Right out of the box, there are 16 preset modules to choose from letting you jump into your choice of pianos right now!
The latest version of the NEO Hybrid Modeling Engine is 60% faster than our previous engine. Couple this speed with our Sound Magic (extremely low CPU usage and low latency) and you've got the ideal piano for live performance and other heavy duty jobs.
But really, as spectacular as the sound is, as efficient as the Engine is, as friendly as the computer load is, the real Magic comes from the touch! Some sampled pianos will suddenly glitch or pop with hard playing - you won't experience this playing the Lucky Bean Piano with our NEO Hybrid Modeling Engine. Has your current piano ever lagged behind, unable to keep up with your flashing fingers or those quirky sparks of inspiration that drive your music? This simply will never happen on a piano using the NEO Hybrid Modeling Engine. The behind the scenes alchemy provided by our NEO Hybrid Modeling Engine makes worries about latency or velocity curves or the thousand and one parameters that you, as a musician, simply should NOT have to worry about, a thing of the past. We've got the technical magic covered, you've got the freedom to make your own Sound Magic!
Convertible Version is the latest expansion of our world renowned Sound Magic piano sound. It brings our piano to more formats and platforms allowing more musicians access to these fantastic sounds. Convertible Version uses the core of the NEO Hybrid Modeling Engine and adds a new simplified interface - allowing "out of the box" performance without a lot of setup time. Convertible Version introduces an add-on data bank which makes getting a huge variety of sounds fast and easy.
For the first time in history, you can custom design the look of your virtual instrument, making it your own personal creation. Spice it up - cool it down - make it your own! Our Convertible Version is the first virtual instrument that allows users to customize the GUI by adding their own personal icons/pictures. Every Convertible Version is unique!
Custom designs
| | |
| --- | --- |
| | |
| Original layout | You can choose an alternative layout |
| | |
| --- | --- |
| | |
| Before customizing | After you add your personal icon |

Choose over 10 different add-ons for different usages. Add-ons is like a Swiss army knife that will make Lucky Bean Piano fits for different situations or solves different problems
Add-ons add different special features to Lucky Bean Piano. They help the musicians living with a easier life and could achieve their goal in a quicker and precise way. These add-ons are all designed for a special purpose or a style of music.


| | |
| --- | --- |
| | 3D Spacer brings Lucky Bean Piano into a new audio world. Dial in the separate 3D Effect unit and choose 7.1 channel output (with 24 Bit/192KHz resolution!) Utilizing the complex science of the latest Head Related Transfer Functions, 3D Spacer can place your piano into a real 3D space that erases the "virtual "and leaves "reality"! |
| | You can choose from the best of the best as you select the sound of acclaimed microphones such as the Neumann U87, M149, or the AKG C12VR. These microphones all have a special timbre which could let the piano sounds different. You may use Microphone Modeler to achieve an unique sound in your mix! |
| | Piano Channel is a channel strip specially designed for Lucky Bean Piano. By using Piano Channel in your mix, you can adjust EQ on fly, Quicker and better than a traditional EQ unit. You can adjust mudness, bright and others here. Piano Channel also provides a specially designed compressor for Lucky Bean Piano, which could provide quicker and better result than a common comp unit, and fit for different style of Music |
Get more add-ons in our online
Add-ons store
!

See Features and System Requirements for PC&MAC


Lucky Bean Piano gives you absolute control over every aspect of a piano. You can adjust hammer actions, microphone positions, sympathetic resonances, dynamics and more. You can even design your own piano! *
HD Velocity Layer supports up to 65,536 Velocity Layers !*
Multi-microphone positions enable users to mix between different microphone positions and create new sounds that easily fit into a mix.
Real Piano Legato make the legato passage so real with a sustaining tone. *
Meticulous Dynamic Response controls enable users to adjust the dynamics of the piano, change the keyboard response, and achieve both realism and playability at the same time!
New! Our 264-string Sympathetic Resonance System adds beautiful harmonies to both pedal up and pedal down notes. *
Lucky Bean Piano is able to detect repeated notes and activate True Staccato Mode which precisely reproduces staccato notes.
Built-in professional Reverb Engine simulates resonances with environment and soundboard, adding extra realism to the sound.
Actual modeling and soft pedal samples vividly present the sound of three kinds of pedals.
Customizing pictures/icons on GUI '
Add-on data bank which makes getting a huge variety of sounds fast and easy '
Faster load times. Smaller hard drive footprint, less memory and less CPU usage.
Lucky Bean Piano now provides the following format and platforms


Windows VST Native Version/Convertible Version



MAC VST/AU 32bit/64bit Convertible Version

Windows 64Bit VST Convertible Version
* Native Version ' Convertible Version
For PC
Intel Pentium 4 1.5GHz or higher CPU
1GB RAM or larger
Windows 98/2000/XP/Vista/7
VST 2.4
For Mac
Mac,Intel Core 2 Duo 2,0Ghz or Higher
1GB RAM or larger
MAC OS X 10.4 or higher
Audio Units, VST 2.4
Get it immediately - only €99! You will get the piano -with €50 add-on or customizing options!