| | | |
| --- | --- | --- |
| Price: €69/$89/£58 | | |
Neo Loudness is a comprehensive tool designed to control loudness. Neo Loudness not only includes traditional compressors and limiters, but it also features a new type of Maximizer.
Keep the "Breath" of the Music
For years, producers have wanted their music to be louder and louder. So the brickwall limiter became the main weapon for getting to that maximum volume. However, there is always a price to pay when pushing to the extreme. The music would tend to lose its "breath" and sound too "tight". Sound Magic has spent years designing a solution for this issue and has developed a new algorithm that can make the sound as loud as a brickwall limiter (even achieving within -5dB Average RMS), without destroying the original natural sounds. Neo Loudness keeps the "breath" of the original music.
Neo Loudness Algorithm
Neo Loudness Algorithm is based on psychological acoustics,that shows how human ears are less sensitive to loudness when it reaches certain ranges. Neo Loudness uses this area to compress the audio signal. When using traditional limiters - and under heavy limiting - music will sound very tight and breathless. Main instruments will sound like they are being pushed way forward. With Neo Loudness, the overall result is a more natural sound while the imaging is hardly changed. Above is a graph showing comparsion between brickwall limiter and Neo Loudness under same RMS.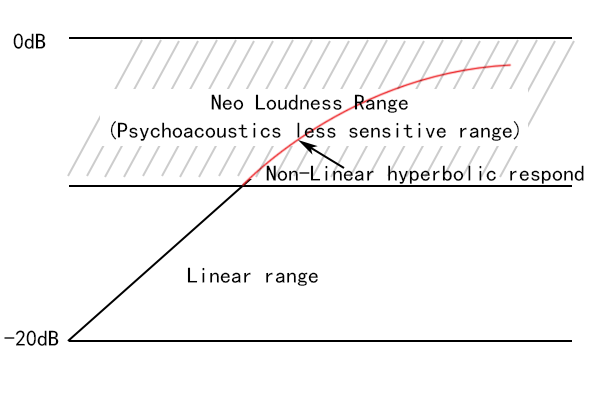 Modelling Vintage Gear Sound
Neo Loudness uses the Sound Magic Award Winning Modeling Technology. Just like its sister software Neo Dynamic, Neo Loudness is similar to a sampler for compressors and limiters. It embodies several algorithms - like sample sets - to make the plug-in easy to extend with new compressors/limiters models in the future
Metering System
Neo Loudness also features a new multi angle metering system. You can not only read the peak and reduction amount through the two volt meters, but also monitor the input signal by looking at the brightness of the Tube GUI. This makes the whole monitoring process easier and clearer.
Features

Comprehensive Loudness/Dynamic Processer features
Compressors, Limiters and 2 innovative Maximizers
Included 3 compressors and 2 limiters
Innovative Neo Loudness technology results in a more natural and high quality sound during loudness processing
Accurate Modeling by Sound Magic Award Winning Modeling Technology
What to do next?
Try the FREE Demo Version by clicking the download button. Or get the full version immediately (with all the benefits!) by clicking the Buy/Cart button. You can also choose your prefered currency to pay through our multi-currency payment system.
| | | |
| --- | --- | --- |
| Price: €69/$89/£58 | | |