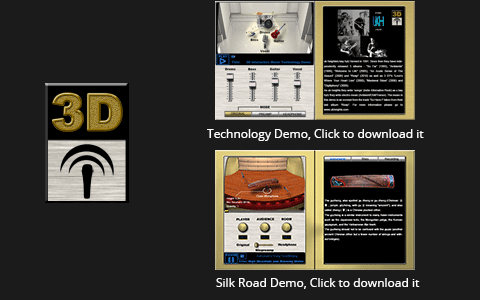 3D Interactive Music is a revolutionary digital audio technology which achieves an entirely new level of realism and playability while opening up incredible new realms of sound! 3D Interactive Music allows audiences to experience music from different physical perspectives, allowing them to "move around the concert hall" - or even "join" the band on stage. And more importantly, it is the first time that the audiences have the right to choose the sounds they prefer - arranging and re-arranging their sounds to create amazing new perspectives of their favorite music.
Silk Road contains 4 unusually beautiful sounding Chinese instruments: the Guzheng, Matouqin, Kong Hou and Bawu. Once again utilizing the magic of 3D Interactive Music, you will experience three different perspectives and the unique sound of each.
Player Perspective enables you to taste the instruments as you are playing them.
Audience Perspective enables you to feel the instruments as you are sitting at the VIP seat of the theatre.
Room Perspective enables you to listen the instruments as you are sitting at the back row of the theatre. Still not satisfied? you can mix the sound from above 3 perspectives and shaping your own and unique sound.
Titles:
High Mountains and Running Water, played on Gu Zheng
Southeast the peacock flies, played on Gu Zheng
Traditional Solo Piece, played on Kong Hou
Mei Hua San Nong, No.1 , played on Kong Hou
Mogolian Impromptu Piece No.1, played on Matouqin Mogolian
Impromptu Piece No.2, played on Matouqin Mogolian
Impromptu Piece No.3, played on Matouqin
Mei Hua San Nong No.2 , played on Bawu
Resolution: 24Bit/96KHz
Size: 3.6GB (2.2GB download)
System: Windows XP/Vista/7