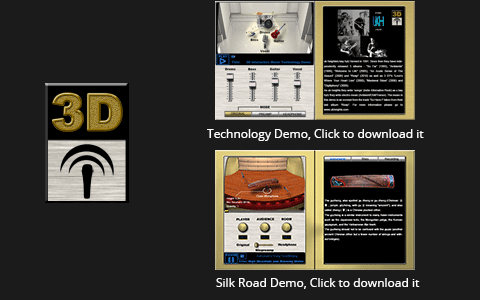 3D Interactive Music is a revolutionary digital audio technology which achieves an entirely new level of realism and playability while opening up incredible new realms of sound! 3D Interactive Music allows audiences to experience music from different physical perspectives, allowing them to "move around the concert hall" - or even "join" the band on stage. And more importantly, it is the first time that the audiences have the right to choose the sounds they prefer - arranging and re-arranging their sounds to create amazing new perspectives of their favorite music.
Piano Magic is a virtual encyclopedia of grand pianos, featuring five of the greatest (and most expensive!) grand pianos from around the world. Fazioli Brunei: Worthy over $400,000 Fazioli F308: Worthy over $300,000 Bösendorfer Imperial Grand: Worthy over $250,000 Blüthner Grand: Wothy over $320,000 Yamaha C7: Worthy over $160,000 Featuring three different perspectives.
Player Perspective enables you to taste piano sound as you are the pianist playing the grand.
Inside Perspective enables you to feel the piano as you are inside its great wood body.
Audience Perspective enables you to listen the pianos as you are sitting at the VIP seat of the theatre.
Titles:
Beethoven Fur Elise, played on Fazioli Brunei Franz Liszt
Liebestraum, played on Fazioli Brunei Chopin Fantasie
Impromptu Opus66,played on Fazioli F308
Rachmaninov Prelude No.2, played on Fazioli Brunei
Beethoven Sonata in F minor op. 57,played on Fazioli F308
Satie Gamnopedie No1, played on Bösendorfer Imperial Grand
Schubert Impromptu, played on Bösendorfer Imperial Grand
Beethoven Sonata in A-flat Major Op.110, played on Yamaha C7 Sciabin Sonata No5 Op53, played on Blüthner Grand
Resolution: 24Bit/96KHz
Size: 4.5GB (2.9GB download)
System: Windows XP/Vista/7