| | | |
| --- | --- | --- |
| Price: €799/$999/£649 | | |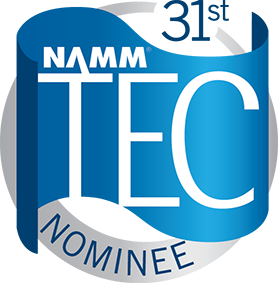 Serenade DSD/DXD/High-Resolution Music Production Workstation is nominated for 31th TEC Award in the category of Workstation Technology
Designed for DSD/DXD/High-Resolution Music Production with Quality, Affordability and Portability
Serenade DSD/DXD/ High-Resolution music Workstation is designed for high resolution music production. It is a complete package consisting of Serenade 384KHz USB 2.0 Audio Interface, a Digital Audio Workstation based on Tracktion, a DSD/DXD Effect Plugin Bundle and a DSD&PCM Bi-directional Converter software.
Back in 1999, The "Next Generation" Audio Format was introduced by Sony and Philips as a successor to the standard audio CD technology (PCM). It was called Digital Stream Data - formally known as Super Audio Compact Disc. DXD (which stands for the Digital Extreme Definition and has a 24 Bit/352.8KHz resolution) is an alternative encoding scheme developed to aid in editing DSD. Neither format became as popular as they were expected to for 3 main reasons:
DSD is a format which is very difficult to edit and process directly
Most professional audio interfaces are at 24Bit/192KHz, and cannot support higher resolution (such as 24Bit/352.8KHz), nor do they have native playback support for the DSD format
The workstation which can make DSD/DXD formats are far too expensive for most musicians
Serenade Workstation managed to solve these issues by:
Providing a USB audio interface which supports up to 32 Bit/384KHz (which can playback DXD) and native playback support for 4 kinds DSD resolutions: DSD64,DSD128,DSD256 and DSD512.
Providing a DAW and plug-ins that work at 32 Bit/352.8KHz and 32 Bit/384KHz resolution, allowing for nearly lossless conversion to DSD. This makes DSD an editable format, allowing for mixing and mastering.
Providing the entire solution at a very affordable price of $999, far less than any other DSD/DXD workstation - and even lower than a lot of common mixing/mastering solutions.
The Portable Solution, Hi-Res Music Production Everywhere - With Your Laptop
Serenade Workstation features a USB audio interface which is very small in size (12cm*12cm*3cm), and can be directly powered by USB or battery powered. This makes the whole workstation very portable. Your laptop is the entire workstation - no need to carry extra equipment or an over-sized computer.
What's more, the Plug-in Bundle is also designed with portability in mind. As we all know, laptop's CPUs normally have less computing power than desktop PCs, and when running higher resolutions such as 32 Bit/352.8KHz, the cost of computing power can be nearly 10 times as as much as when working with16 Bit/44.1KHz resolutions. The Serenade Workstation has specially designed plugins which not only work well under 32Bit/384KHz, they create far less of a load for your CPU. Our Testing Labs have shown that modern laptops with a quad core CPUs can mix 32 tracks in the DXD/DSD format with no problems.

Affordable and Portable Does Not Mean Low Quality
Sometimes, "affordable" means "cheap" - and that always means a reduction in quality. But that's not the case with the Serenade Workstation. We integrate a Reference Grade Digital to Analog Converter which has a Dynamic Range of 123dB, THD+N of -106dB, a headphone amp features a stereo crosstalk over 120dB and 300mV output power. These high tech specs all ensure the amazing sound quality of Serenade Workstation. (see spec data page here)
Advanced Editing for the Professional
As a workstation, all key features are extremely easy to use. You can quickly and easily create cross fades, and effect racks and an in-line mixer are at your fingertips. Although some functions are quite powerful, advanced and flexible, they are not at all difficult to master.
Multi Format Support and Super High Quality Conversion
Serenade Workstation supports many different Audio Formats, not just the usual ones, but also some of the rare ones. If you need to convert between DSD and PCM, Serenade Workstation integrates a professional quality converter which has a THD+N of -138dB, far beyond what the human ear can even notice. With this powerful converter, you will have nearly lossless conversions between DSD and PCM.
Pitch Shift and Time Compression/Expansion with Melodyne
The Grammy Award winning Melodyne system revolutionized the task of audio time and pitch editing by focusing on a musical approach to a previously highly technical process. With Melodyne, users can not only see where the music gets louder or quieter but also where notes begin and end and at what pitch they lie. Each note can be easily modified to correct intonation, phrasing and dynamics.

Serenade Workstation supports MIDI input and output, and the use Virtual Instrument plugins on MIDI tracks.
Recording
Serenade Workstation enables you record DXD format directly, or get recording from other DSD recorder. For hardware, we will provide a recording module in 2015, which is a 2/8 channels Analog to Digital Converter with Microphone Preamps. With the Record Module, you will be able to record DSD with the DSD64, DSD128 and DSD256 formats, record DXD at 352.8KHz and PCM at 384KHz. If you are using other High-Resolution(up to 384KHz) and DSD recording device, you can also use Serenade Workstation software to directly Record, Mixing, Mastering and Editing.
Lower Your CPU Usage and Work With More Tracks
Serenade Workstation is designed to process 32 tracks in DSD or DXD on a regular laptop. But to process DSD/DXD audio you will need 10 times the CPU usage than is needed for a 16bit/44.1KHz project. In order to achieve this goal, Serenade Workstation comes with a bundle of special designed plug-ins that have lower CPU usage while still maintaining pristine, professional quality. Finally users can mix and master 32 tracks of a DSD/DXD project on a regular quad core laptop. With a newer desktop computer, it will be easy to process 48 DSD/DXD tracks ...or more!
Next Generation Pitch Tracking EQ Helps You Get A Beautiful Sound in a Quicker (and better!) Way
With Neo EQ technology inside the Serenade Workstation, you can automatically detect and lock in the most audible/sensitive frequencies. This makes the whole EQ process much easier and more effective than traditional EQ. You can easily adjust your sound's harmonic partials and tweak the timbres in a much more efficient manner.
Play with Different Dynamic Processers
Serenade Workstation also has very powerful Dynamic Processors which enable its users to emulate nearly all of the types of dynamic processors on the market today. You will not only find Circuit Modeling SSL, Tube-Tech Compressors/Limiters, but also Dynamic Processors with a complex dynamic response curve. With these Dynamic Processors, you can easy get effects such as Parallel Compression, Sidechain Compression, Expanders, Maximizer, Optical Compression, Noise Reduction and many more.

Mastering with High Resolution DSD/DXD
Serenade Workstation enables it users to master at any Sample Rate/Bit Depth, including 32 Bit/352.8KHz and 32 Bit/384KHz. With higher sample rates and an integrated Reference Grade Digital to Analog Converter, users can easily hear every detail of the music. Also with native DSD playback support, you can hear the pure DSD sound in real-time with the embodied DSD player. What's more, unlike the playback of DSD in DOP (DSD on PCM) mode, native playback has a purer sound and better support for different DSD formats.
All The Mastering Tools You Need
Serenade Workstation is designed for mastering inside itself without the need for external plug-ins. Serenade Workstation contains a 5 Band EQ, Multi Band Dynamics, Bass & High Dynamic Enhancer, Psychoacoustic Harmonic Enhancer, Brickwall Limiter and Spatial Enhancer. These powerful tools give you every tool that a mastering project needs.
Multi Professional Meters for Engineers
The Serenade Workstation integrates professional meters to help monitor your music. You can use different K-System meters to monitor your loudness level, or check the scope with a time based graph. Want more? We've also got multi band loudness meters and VU meters for our users.
Serenade Workstation enables extension module to expand its function, below is a list of module planned
| | |
| --- | --- |
| Record Module | To be appeared in 2015. Price:TBA. Add DSD/DXD recording ability |
| Surround Module | Supports Multi Channel DSD/DXD playback |
| Fantasia Module | Will release in 2015. Price: $199. Add Professional Balance Output and Better Sound Quality. This module will replace the Serenade Pro-X Audio Interface |
| | |

Record Module: Add DSD/DXD recording ability
Surround Module: Supports Multi Channel DSD/DXD playback
Also Serenade Workstation supports VST plugins! You can load any of the thousands of VST plugins on the market today. This opens the doors of DXD/DSD/Hi-Res Music Production to the huge Virtual Instruments/Synthesizers' world. The huge amount of VST plugins will benefit DSD/DXD/Hi-Res Music Production at every level - but please note that we have not had the time to test all the VST plugins on the market. Most will work flawlessly, but some may have issues at higher resolutions.

Editing, Recording (need additional record module)Mixing and Mastering in DSD, DXD and PCM at 384KHz
Refernece Grade USB2.0 Audio inferface features 123dB in Dynamic Range and -106dB for THD+N
High Quality Bi-directional DSD&PCM Converter which has a -138dB THD+N enable users to convert their PCM source into DSD format nearly lossless.
Native Playback for DSD64, DSD128,DSD256 and DSD512
Native Playback for PCM at 44.1KHz, 48KHz, 88.2KHz, 96KHz, 176.4KHz, 192KHz, 352.8KHz and 384KHz
Process Audio Signal at 32Bit/352.8KHz or 32Bit/384KHz
Support MIDI
Support VST plugins on both PC and MAC
Works under Microsoft Windows PC and Mac (See System Requirement)
Specs
Highlights:

Power:

D/A Dynamic Range: 123dB A-weighted
D/A THD+N: -106dB (0.0005%) unweighted
32Bit DAC Architecture
Native DSD playback for DSD64, DSD128,DSD256 and DSD512
Support PCM playback of 384KHz,352.8KHz,192KHz,176.4KHz, 96KHz, 88.2KHz, 48KHz and 44.1KHz
Unlimited track support, 32 tracks under DXD/384KHz solution on a quad core laptop.
Support VST plugins on PC and Mac
Bi-directional PCM/DSD converter at -138dB THD+N.

Input: 100-240VAC, 50-60Hz, 0.2A
Output: 5.0V 1000mA 5W

Operating System:

Microsoft Windows XP(Only support 32Bit) or 7 (For 64Bit)and above

Mac OS 10.5.8 and above

Digital to Analog:

Package Contents:

THD+N: -106dB (0.0005%) unweighted
Dynamic Range: 123dB A-weighted
Frequency response at 44.1 kHz: 20Hz to 20kHz (+/- 0.03dB)

Serenade Pro-X Audio Interface
USB cable
External Power Supply
6.5 to 3.5 Headphone jack converter
4 pads
Software DVD
Quick Start Guide

Headphone Outputs:

Serenade Pro-X Audio Interface Dimensions:

THD+N: -106dB (0.0005%) unweighted
Dynamic Range: 123db A weighted
SNR: -123dB A weighted
Stereo Crosstalk: -124dB
Output impedance: 30 Ohm
Output Power: 300mV

11.5cm*11.5cm*2.5cm
Packaging Dimensions:
15cm*15cm*10cm
Graphics/Screen Captures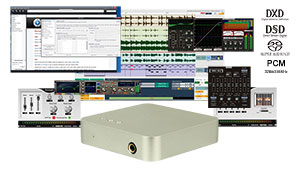 Additional Customer Support
In order to better support our customer, we will provide 1 year additional customer support on specific topic around DSD for every Serenade Workstation's customer, below is a few examples on the subject
How to better market your DSD music
How to better convert your old PCM recording to DSD file
Get the most benefit of DXD format
The 12 different setup of Serenade Workstation for different cases
Processing DSD recording with less distortions
And more
What to do next?
Click Buy/Cart button to purchase. You can also choose your prefered currency to pay through our multi-currency payment system. This product requires shipping, please see shipping detail page here. North American Customers may also use Amazon to purchase this product, please check this link
| | | |
| --- | --- | --- |
| Price: €799/$999/£649 | | |